Join us for these worship services during Easter Weekend 2023 at Banner Elk Presbyterian Church.
Good Friday, April 7 @ 6 PM – Tenebrae Service
All are invited to this special community worship service entitled "Witnesses". There are a few witnesses to the crucifixion mentioned in the Bible, but what might others — people not mentioned — have thought? Witnesses at the event and witnesses today struggle to fully understand Christ's suffering and sacrifice. Since that day Christians have revisited the scene, searching for better understanding. Although we know today there is a sunrise to come, Good Friday is a day we must endure.
We'll further our journey to understanding through music, the spoken word and the ceremonial darkening of the church. Music provided by the adult choir, soloists and musicians. Original readings written by Dr. Janet Speer and presented by Rev. Whit Malone. Choral director is Nina Allbert, joined by organist/pianist David Soyars. Also watch our live stream on our YouTube Channel.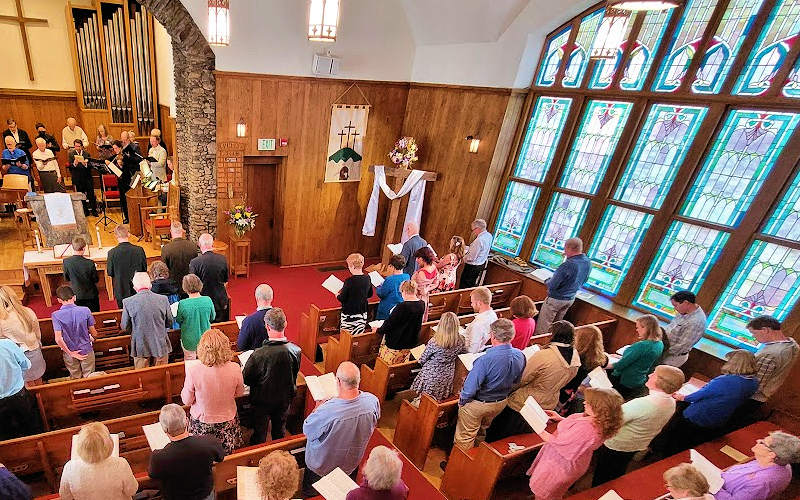 Easter Sunday Service, April 9 @ 11 AM
Joyfully acclaim: Christ the Lord is risen today! Sing along with celebratory hymns accompanied by the pipe organ and a special anthem by the Chancel Choir. Hand bells begin the celebration. After the inspiring sermon by Dr. Rev. Whit Malone, the traditional service concludes with communion and the singing of the Hallelujah Chorus by Handel. Bring flowers for the flowering cross on the lawn. Visitors definitely welcome! Also watch our live stream on our YouTube Channel.
Community Sunrise Service, April 9 @ 7 AM
We join several churches in the Banner Elk area for this longtime annual Easter service. Gather atop Resurrection Hill on the South Campus of Lees-McRae College as the sun rises over the Blue Ridge Mountains.
Mayland Fellowship Gathering Holy Week Services
First Presbyterian Church in Spruce Pine
970 Greenwood Road, Spruce Pine
Sunday, April 2: 5:30 pm meal, 6:30 pm meeting, 7 pm worship with Rev Whit Malone (Banner Elk Presbyterian)
Monday, April 3: 7 pm worship with Rev Jim Taylor (Grassy Creek & Newdale Presbyterian)
Tuesday, April 4: 7 pm worship with John & Beth Hall (Micaville Presbyterian)
Wednesday, April 5: 7 pm worship with Rev. Stephen Elderbrock (First Presbyterian Burnsville)