The JULIETs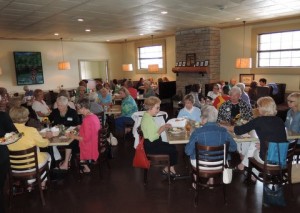 The JULIETs (Just Us Ladies Informally Eating Together) began after hearing how much fun the men's group, ROMEOs, had been having over the years.  They get together for lunch on the second Wednesday of each month at different restaurants nearby.  (They meet at 12:30 to allow participants in our Comfort Makers to attend after their sewing session which ends at noon.)
Many seasonal friends have enjoyed participating in JULIET festivities, and women and girls of all ages are invited to join them.
Alisa Ballard, Pam Murtland and Susan Blalock coordinate the JULIETs.  Call Alisa at the church office for more information (828-898-5406).
Click Here to view the JULIETs Photo Gallery.
The ROMEOs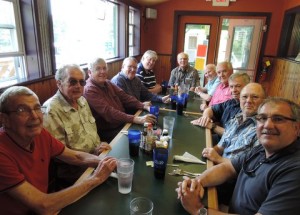 For a number of years, a group of our men have been having lunch together every Thursday.  They've become known as the ROMEOs (Retired Old Men Eating Out), but you don't have to be retired—or old– to join them.  In fact, a number of still-working guys regularly fit this into their lunch-hour schedules.
These lunch times have no agenda other than fellowship and enjoying food at various area restaurants suggested by the group.
If you're interested in this friendship gathering, please let the church office know so that you can receive a notice about time and location each week.  You can also call the office on Thursday mornings to let them know you'll be attending that day.
Tony Fortune (898-4950) is the contact for this group.
Click Here to view the ROMEOs Photo Gallery.
Nurture and Fellowship
Banner Elk Presbyterian Church hosts frequent and fun meals, picnics and other fellowship opportunities to build relationships among the church members.