Sunday worship is held from October through May at 11:00 a.m. and June through September at 8:30 a.m. and 11:00 a.m.  The 8:30 service is traditional with music led by a men's gospel choir. The 11:00 service is also traditional and led by an adult mixed choir. A nursery is available for small children during the 11:00 service. Audio recordings from the 11:00 service are available.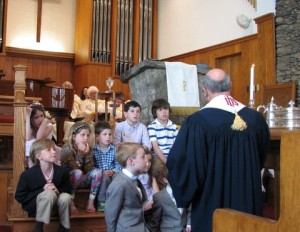 The 11:00 Service includes "Time For Our Children" when the Minister gathers the children in the front of the Church and presents a special message for them. The children are then invited to Sunday School for discussion of the message.
Music is an essential component of our worship.  Click Here for information about the Music Ministry.
The Adult Formal Choir sings at the 11 AM Service each week.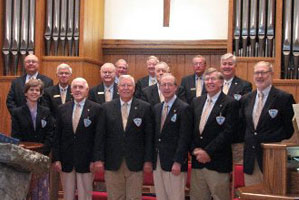 From June through September, there is also an 8:30 a.m. service, featuring the men's choir and a slightly abbreviated program. There are two special candlelight services on Christmas Eve: a family service at 5:00 p.m. and a communion service at 7:00 p.m.
During the Easter season, a Maundy Thursday worship service is held.  We join Presbyterians around the world to celebrate the Lord's Supper on the first Sunday of the month.
We join members of the community on the Sunday evening before Thanksgiving with a pot luck feast and worship at Holston Presbytery Camp. A community Sunrise service is held Easter morning on Resurrection Hill at Grandfather Home for Children.