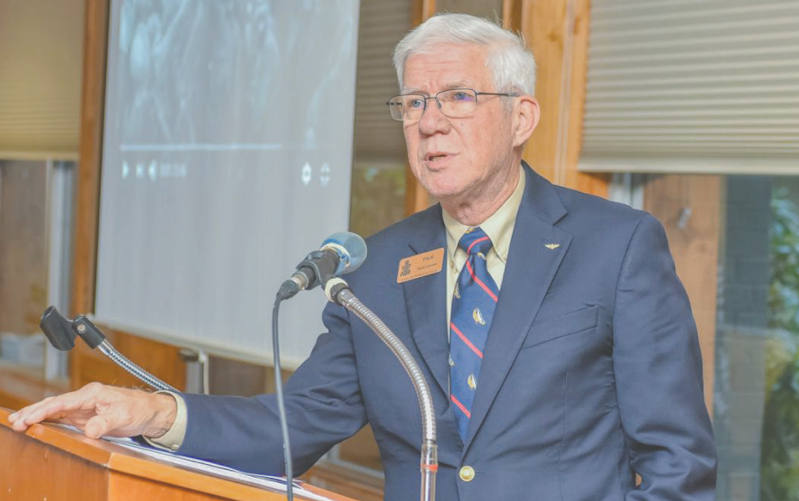 Larson continues legacy of 'integrity, character and honor'
Avery Journal, November 8, 2023
Dick Larson is well known in Avery County for his work as executive director of Feeding Avery Families, a local nonprofit that distributes thousands of pounds of food to needy county families every month. Dick is a longtime member and elder of Banner Elk Presbyterian Church.
While many in the community are aware about Larson's work and efforts with the area nonprofit, many may not realize that he is also a retired surgeon and served as a Marine pilot during the Vietnam War.
Larson grew up in Upstate New York, where he decided he wanted to attend college at several private universities his family could not afford. To get around that issue, he applied for and received a Naval Reserve Officer Training Corp scholarship, which paid for his tuition entirely, lent him his books and provided a $50 per month stipend.
"This is at a time when tuition was the incredible cost of $1,800 a year, but for us that was more than we had," Larson said. "It didn't matter that it seems trivial now."
Ultimately, Larson attended Cornell University with the scholarship. In that program, half of each summer was spent in service and there was a four-year obligation following graduation. Larson said that halfway through the program, some of the students were given the chance to take the Marine option, which would allow the students to enter the Marine Corps instead of the Navy.
"I can't honestly say I even knew a whole lot about that, but it was very clear to me that the sharpest guys in that unit, the guys who seemed to have the most going on, who seemed to be the most squared away, were all taking the Marine option, so that's what I did," Larson said. "Not a very in-depth, thoughtful way to make an important decision, but turned out to be, other than courting and marrying my wife, one of the best decisions I ever made."
Larson completed his undergraduate studies in 1966 and was entered into the Basic School at Camp Barrett in Quantico, Va., where all freshly commissioned Marine officers received their basic training.
Larson said that program normally would have lasted six months, but during the height of the conflict in Vietnam the training process was compressed. The fresh officers trained six days a week to complete the program more quickly.
During that training, officers were exposed to different military occupations. Larson said he had no thoughts about becoming an aviator initially, but became enthused with the idea due to the enthusiasm of his roommate. Sadly, his roommate did not pass the eye exam and could not become a pilot.
"This is an amazingly healthy, fit bunch of people," Larson said. "You wouldn't guess there are any physical abnormalities among these people; they don't look it."
Larson said the majority of the people who did not pass the physical exam for aviation failed due to an eye abnormality. His roommate ultimately did serve as a bombardier and navigator, even though he was not able to become a pilot.
Once Larson finished basic training, he completed flight training through the Navy.
That program normally took 18 months, but that was also somewhat condensed during Vietnam. During that training, pilots begin training in lesser- powered aircraft before working their way up. Ultimately, Marine Corps trainees chose between piloting jets and helicopters. Larson opted for jets.
He was eventually transferred to Marine Corps Air Station in Cherry Point, N.C., where he transitioned into flying operational aircraft instead of training vehicles. He primarily flew the F-4B variation of the Mcdonnell Douglas F-4 Phantom II.
Obligated service for Larson did not begin until he completed flight training. He had already spent nearly two years in the military before he began serving his four years. When he went to Vietnam, he was stationed at Chu Lai for approximately a year. He flew approximately 230 missions in his first year.
"We'd fly most days, not necessarily every day, and all Marine officers have other responsibilities," Larson said.
Larson said it was a seminal time in his life, and the route he took into the military during a time with an active draft suited him.
"Integrity, character, honor — they not only talk about these things, they emphasize them, and they're just constantly harping on what those things mean," Larson said. "And, I think that's a great deal of what people get out of that kind of experience. Those are good things."
Larson said he thinks the country would be better off if, at some point, everyone spent some time dislocated and found themselves in a different environment, around different people and with responsibilities, even if it is not in a military capacity.
Larson never intended to make military service his career, and his academic aspiration was initially to become a mathematician. It took one calculus course to dissuade him from that career path.
He later became interested in zoology, which filled all the requirements for pursuing a career in medicine. He decided he wanted to attend medical school before graduating from Cornell.
Larson said if he could make the decision again, he would still choose to serve, likely even in the absence of a draft.
"Is it for everybody? No, it's not," Larson said. "Everybody needs somewhat different things and excels at different things."
Larson returned from service in 1971. He attempted to have his service delayed until after he completed medical school by writing the Navy, an idea the branch did not take to. Upon his return, Larson faced some difficulty entering medical school.
"I had a lot of uncertainty," Larson said.
Larson's credentials and Medical College Admission Test scores were more than five years out of date by the time he left the military, and he was competing against young people who were just entering high school when he finished his undergraduate studies.
He said the military was not a popular institution at the time while there was a large amount of social unrest revolving around the government and the military.
Larson sent out a large number of applications. He was eventually accepted at Duke University School of Medicine, a school he described as favorable for nontraditional students at the time. He added his military experience was structurally similar to his medical training and his time as a pilot related heavily to surgery.
Larson completed medical school in three years by continuing to attend during summers. He practiced general surgery for 20 years in the Greenville area in private practice and had an affiliation with East Carolina University School of Medicine. Larson retired from surgical practice in 2000 and moved to the area with his wife, at which point he turned his furniture making hobby into a business.