Summer Camp hours are Mon-Fri 9am-1pm! Please click on the summer camp link below for more information.
This ministry of the church under the supervision of the Session is a part day program for 2 to 4 year old children. It operates from 9am to 1pm Monday through Thursday for 2, 3 and 4 year olds. The goal of the program is to promote growth in the areas of physical, social, educational, and spiritual development. For more information check out this web page, see us on Facebook, or call the church office at 828-898-5406. 
Click Here to view the Preschool Photo Gallery.
Preschool Scholarship Application
Preschool Staff  2016-2017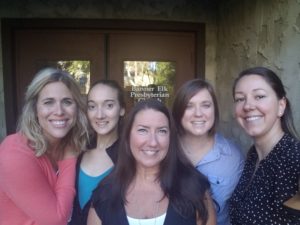 AC Marriott: Preschool Director and Three Year Old Lead Teacher
Ann-Charlott is originally from Gothenburg, Sweden. "AC" came to the America after receiving a full tennis scholarship to play NCAA Division I tennis at High Point University located in High Point, NC. After only 5 years she was awarded 4 Big South All-Academic Honors, Bachelor of Science and a Master's Degree from HPU. AC comes to us from The Goddard School in Mooresville, NC where she was the Lead After School Teacher and Assistant Teacher in the pre-k classroom. While at Goddard she received several early childhood trainings and earned multiple certificates for her teaching. AC and her family moved to Banner Elk earlier this year as her husband Don is the Men's and Women's Head Tennis Coach at Lees-McRae College. Besides teaching and playing tennis AC loves spending time with her daughter Katariina and her two step children Cooper 15, and Mimi 14 years old. AC's favorite color is purple and one of her favorite children's books is "Goodnight Moon" by Margaret Wise Brown. AC's passion for teaching has always been strong "being able to be a positive role model and present the children with a safe educational environment means the world to me".
Jessica Stokes: Four Year Old Lead Teacher
Ms. Jessica grew up in North Carolina and attended Banner Elk's local college Lees-McRae, where she studied education. Prior to being at our school Ms. Jessica taught Kindergarten in Phoenix, Arizona and Kindergarten and 2nd Grade in Miami Beach, Florida. Early Childhood Education is her passion and she is excited about joining Banner Elk Presbyterian Preschool. In her spare time, Ms. Jessica loves to pick flowers and go on long walks with her son Bear. Jessica and her husband Matt spend their leisure time with Bear exploring and enjoying the beautiful mountain life up on Beech Mountain. Her favorite children's book is The Day the Crayons Came Home, By Drew Daywalt and Oliver Jeffers. The book is the sequel to The Day the Crayons Quit, by the same authors and not to be missed. The Day the Crayons Came Home is a colorful and funny picture book full of kid-like drawings. Crayons are a symbolism of childhood, and Ms. Jessica believes that everyone will laugh and love this story for years to come.
Jennifer Owen: Three Year Old Teacher Assistant
Ms. Jennifer or "Jenno" as people call her is beginning her second year with the preschool. She loves interacting with the preschoolers and especially making exciting crafts with the children. Jennifer has lived in Banner Elk for thirteen years. She is a Lees-McRae College graduate with a B.A. in Psychology. Jennifer has a strong passion for working with children; she is a local babysitter and also works at the YMCA Child Care Center. Some of her previous experience is with the Holston Presbyterian Camp and as a continuous volunteer with Special Olympics. One of Jennifer's favorite children's books is "Where are you in the zoo?". This is a book Jennifer's grandmother would read to her as a child as she absolutely loved all the animals at the zoo.
Tiffiny Ledford: Two Year Old Lead Teacher
Ms. Tiffiny has been married for 15 years and have 3 amazing boys and 1 sweet little girl. She has lived in the High Country for 24 years and calls this beautiful place home. Her family loves this community and the wonderful people in it. Tiffiny and her family are members at Banner Elk Christian Fellowship. Her favorite colors are tiffany blue and pink. Tiffiny's favorite books when she was little was "The Tales of Uncle Remus" "The Adventures of Brer Rabbit"; her grandmother would read them to her every night at her house. Tiffiny believes children are the greatest gift that God has given us as she learns something new from them every day.
Vicky Pipes- Two Year Old Teacher Assistant
Ms. Vicky was born and raised in Asheboro, NC.  She attended Lees-McRae College for 2 years and then transferred to Lenoir-Rhyne University in Hickory, NC where she studied Early Childhood Education.  Vicky worked for Harbour Oaks Montessori School in Georgia for 4 years.  Vicky perceives children as tiny sponges being able to soak up all kinds of knowledge and material.  Vicky loves to watch our children learn, grow and start applying their new found knowledge to their everyday life.  Some of her favorite things to do are to read, cook and go hiking.  Vicky has many favorite children's books but the one that sticks out the most is the "The Lorax" by Dr. Seuss; she likes that it teaches children to appreciate and take care of nature.